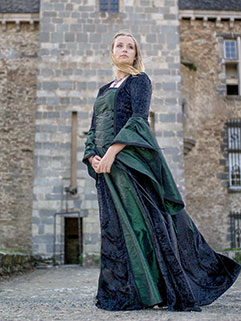 Black Medieval Dress - see info
Questions we often get asked
Over the years we have been asked a number of questions that come up time and again.
Below is a list of these with answers to assist you in making your decision about ordering from Vendetta Couture.
The list below may not cover all the questions you need to know before ordering so feel free to use our form on the contact page if there is any other information you require and we will get back to you as soon as we can with the answer.
List of questions
What sizes can you make?
I don't know which size I should choose. According to your measurement chart my bust falls in the medium range and my waist in the medium large range.
Can you make child sizes?
I'm not a fan of crushed velvet, can you make a dress using other fabrics?
What if my made to measure dress does not fit?
Can I give you my bra size?
Can you alter the designs to incorporate some special requirements?
I like one of the dresses but I would like another style of sleeve or to change the neckline.
How long does it take to make a garment?
How does your "super express garment order" work?
I've seen a photograph of a beautiful dress on the internet. Can you copy it for me?
Frequently Asked Questions