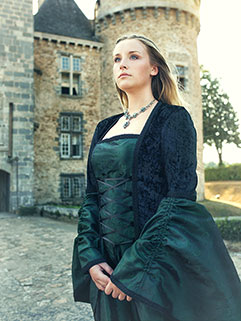 Custom Black and Green Medieval dress - see info
About ordering with us
At Vendetta Couture we are proud to provide a personalised person to person service, connecting you with the designer / dressmaker on an individual basis, so that your dress, gown or item of clothing is exactly the way you hope it will be.
Almost all of our gowns, dresses and clothing are made to order and because these all vary we have decided not to utilise a shopping basket/cart system so that we can ensure that you are entirely happy when placing your order with Vendetta Couture.
This allows us to discuss all your requirements up front and lets you decide if you wish to purchase a garment in a specific size or wish to use our made to measure service. Or Perhaps you just want to discuss the details of your dress or clothing with us before you place order?
This also allows us to ensure adequate time is given to both the design process, the dressmaking and that your item is delivered to you for when you need it.
At all times we will keep you informed of the process and we always let you know when your gown or clothing has been dispatched and approximate times of arrival with you.
---
Vendetta Couture ordering process



1

Choose the dress, gown or clothing by visiting our Portfolio section and selecting what you would like to purchase from Vendetta Couture.




2

You can have the garment made to your exact measurements, use our Taking measurements page as a guide.




3

Alternatively, you can send us your measurements and then we can advise you what size fits you best.




4

Check the size chart on the sizes page. Find the size that fits your measurements.




5

On the garments page, click on the order/get more info button and fill in the contact form with your details, your measurements/size, and any other information you think we may require (size required, measurements, made to measurements request, delivery date requirements, possibly your location if outside of Europe).




6

We will normally be in contact with you within 24 hours from when you send us your order/get more info request.




7

Depending on the information in the order form, we will send you the total cost of the item, including the delivery cost. If you are entirely happy with everything then a Paypal payment invoice or bank transfer details will be sent to you so that you can pay for your garment.




8

Once your order has been accepted, you will be kept informed of the progress of the garment during the dressmaking process and we will let you know when it is ready to be dispatched and when you should expect to receive it.



---
Order through our Etsy shop
However, if you prefer to use a shopping basket/cart method of purchasing you are welcome to go to our Etsy shop and purchase the item there. If the item is not listed in our Etsy shop let us know through our contact form and we will list the item for you so we can process the order as soon as possible.
Visit our Etsy shop by clicking on the Etsy logo here or the E logo at the bottom of every page.
---
Special requests or get more information
If you would like to know how to order special requests or get more information about a particular garment:
Depending on what the request is, click the 'order / get more info' button on the item's page and send us a message on the contact / order form, detailing what you are interested in and what requests or information you require (is Willow-010 available in a child size for example?). Or go directly to the 'contact' page and fill in the contact / order form there.


Each product page has an garment name and number. When you click on the 'Order / get more info' button the name of the item will transfer on to the form. If you are interested in more than one item then remember the name and number and quote it to us in the message box on the form. This could be for example: Lily-024 because of the colour combination but the style of Angelica-032.


Alternatively, you can just email us using our email link at the bottom of every page.


We will normally be in contact with you within 24 hours from when you send us your request for more information.


Remember, we are more than happy to help you with any special requests and look forward to answering any questions, ideas or suggestions that you may have regarding ordering a garment or with regards to your order in general.



Timeless designs, lovingly handmade by an experienced artisan